Welcome to PalaceLasAmericas.com
Hotel Riu Palace las Américas - All Inclusive - Cancun, Mexico
The Hotel Riu Palace Las Americas (All Inclusive 24h) offers the best facilities, and is perfect for enjoying your holiday in the city of Cancun, Mexico.
As can be expected from our luxurious Riu Palace hotels, guests will enjoy high quality service with excellent facilities such as a fresh water swimming pool, Jacuzzi, gym, sauna and the "Renova Spa" wellness centre with a range of different treatments and massages.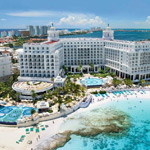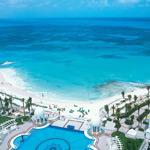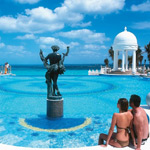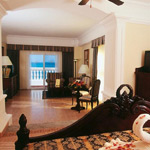 Mexican cuisine is famous for its wide variety of recipes. It is recognised for its distinctive and sophisticated flavours with many different spices. It is a combination of gastronomic traditions, including Mesoamerican and European ones, as well as many others, which is why the buffet restaurant and the different themed restaurants of the hotel offer the best menus and made to order dishes.
From its beachfront location in Cancun, Hotel Riu Palace Las Americas offers you splendid views and the perfect area for enjoying different activities and water sports. If you are travelling as a family, couple or with friends, you can enjoy the All Inclusive system and sports such as table tennis, volleyball, cycling, golf, catamaran, snorkelling and much more. At night we invite you to watch the various shows, listen to live music and come dancing in the "Pacha" club.
If you want to discover inland Cancun you can go on excursions to see impressive places like the pyramids of Kukulkán in Chichen Itzá, the Turtle Conservation Centre of Isla Mujeres, the archaeological museum, the stage tower, Isla Holbox, the water park and many other sights that are not to be missed. The tourist area also has many shops, bars, restaurants, cafés, clubs and terraces where you'll find lively nightlife and a good atmosphere.
The Hotel Riu Palace Las Americas is a perfect option for enjoying unforgettable holidays. Enjoy the best offers of Mexico and spend some relaxing time at the hotel.
Highlights
All Inclusive 24 hours
Free WiFi throughout hotel
On beachfront
Awarded GOLD certification for the Travelife Sustainability System
Free sun loungers on hotel's private beach
Room service 24 hours a day
Buffet style and theme restaurants
Two swimming pools, one with adjoining whirlpool bath
"Renova Spa"
Free gym and sauna
Services
Room service 24 hours a day
"Don Roberto" restaurant with terrace
"Los Arcos" Italian restaurant
"Tio Pepe" Mexican restaurant
"Sakura" Japanese restaurant
"Krystal" Fusion restaurant
"El Romero" poolside restaurant / grill and steakhouse
"Art Deco" lobby bar
"La Nuit" lounge bar with terrace
"La Terraza" bar plaza
"Can" poolside bar
"Cun" swim-up bar
Swimming pool, with adjoining whirlpool bath
Swimming pool, heated in winter
Children's swimming pool
Free whirlpool bath
Free sun loungers, towels and parasols by pool
Sun terrace
"Renova Spa" with a variety of treatments, massages and beauty salon (additional charge)
Free gym, whirlpool bath and sauna
Use of the gym and sauna is restricted to guests over 18 years old. Sports shoes are compulsory when using the gym
"Pacha" discotheque (at the Hotel Riu Cancun)
Conference room
Kiosk
Free WiFi throughout hotel
Use of computers with Internet access (additional charge)
In accordance with Mexican law smoking is not permitted inside the hotel: guests may only smoke outdoors
Sport
All Inclusive features
Sports and activities:
Gym, table tennis, beach volleyball
Sauna and whirlpool bath
Catamaran, canoeing, snorkelling equipment
1 introductory scuba diving lesson in pool
Entertainment:
Daytime entertainment programme for adults (daily)
Daytime entertainment programme for children ages 4 to 12 (several times a week)
Live music, shows or Riu evening programme (daily)
Entry and drinks to "Pacha" discotheque at the Hotel Riu Cancun (open six nights a week).
Sports and facilities nearby (additional charge):
Golf course, various water sports available, bicycle hire
The RIU Group has no direct or indirect relationship with external services (especially PARASAILING) and does not assume any liability for them, any contract between them being the exclusive responsibility of the clients themselves.
All Inclusive
All meals and snacks
Breakfast:
Full American breakfast buffet, live cooking stations, fruit, juices and Cava
Continental breakfast / snacks
Lunch:
Hot and cold buffet and live cooking stations
Pizzas, pasta, salads and assorted desserts
Dinner:
Buffets and dishes prepared live
Special evenings: themed buffet (three times a week)
Optional dining (à la carte, reservations required in advance):
"Los Arcos" Italian restaurant
"Sakura" Japanese restaurant
Grill and steakhouse
"Tío Pepe" Mexican restaurant
"Krystal" Fusion restaurant
Formal dress required for dinner. Main restaurant: gentlemen – no sleeveless T-shirts. Theme restaurants: gentlemen – no sleeveless T-shirts, long trousers
Snacks 24 hours a day
Beverages:
Local and imported beverages served 24 hours a day
Drinks service at pool
Regularly restocked minibar and liquor dispenser
Room service 24 hours a day
In-room safe
Sports and activities:
Gym, table tennis, beach volleyball
Sauna and whirlpool bath
Catamaran, canoeing, snorkelling equipment
1 introductory scuba diving lesson in pool
Entertainment:
Daytime entertainment programme for adults (daily)
Daytime entertainment programme for children ages 4 to 12 (several times a week)
Live music, shows or Riu evening programme (daily)
Complimentary entrance to "Pacha" night club and drinks at the Hotel Riu Cancun (open six nights a week)
All accommodations, taxes and gratuities
All hotel guests are required to wear an "All Inclusive" wristband for identification purposes